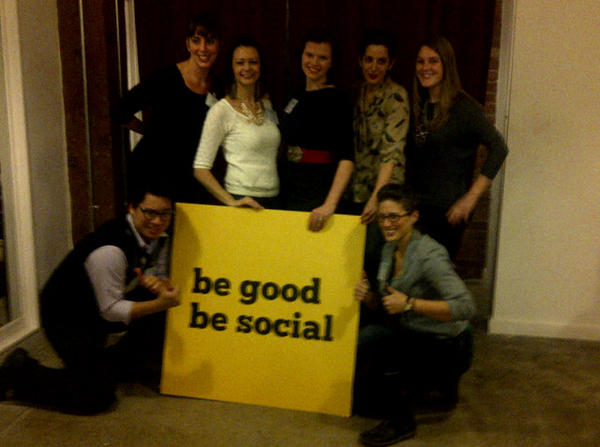 The Be Good Be Social Toronto Committee: Frankie Chow, Marcie Crosbie, Clare McDowall, Emma Jenkin, Claire Kerr, Laura Bradley, and Tara Irwin
Last night was the second annual Be Good Be Social Toronto (check us out on Facebook and Twitter), a free conference about social media for nonprofits.  Be Good Be Social started in Glasgow a few years ago, and it's starting up in Amsterdam too.
Clare McDowall starts the night off in a packed room for Be Good Be Social Toronto
I was delighted to rejoin the organizing committee of BGBS – a group of incredibly talented individuals from all corners of the nonprofit sector.  The planning of the event over the past few months happened almost exclusively online, and mostly through a private Facebook group. We met once in person to confirm our commitment and divvy up responsibilities, and once closer to the event itself to check in.
Paul Nazareth, nonprofit jack-of-all-trades extraordinaire, has a pretty great Storify up about highlights from the night. For those who couldn't make it, or weren't following #BGBS12, here are some of my favourite points from the night:
Many hands make light work
Jason Shim & Shubhagata Sengupta started the night off with a terrific run down of crowdfunding. If Karyn Bosnak can get strangers to giver her money to pay down her $20,000 shopping debt, there is a lot of potential for valuable causes.
(Sidenote: Wikipedia has a page called cyberbegging. Harsh. Let's stick with crowdfunding, shall we?)
Other great examples included The Oatmeal's BearLove Good, Cancer Bad (raised $220,000 with a goal of $20,000) and Let's Build a Goddamn Tesla Museum (raised $1,380,000 with a goal of $850,000) and President Barack Obama's approach to fundraising, going for more smaller donations rather than focusing wholly on the big ticket donors.
But what if you don't have the profile of The Oatmeal or Obama? The common factor in successful crowdfunding campaigns are two things: they are very very specific (so you know exactly what your dollars are going towards), and they are time-sensitive (to create a sense of urgency).
NFP Confidential
Claire Kerr moderated a panel of Emma Lewzey (The Redwood), Kelly Bergeron (Ontario 211), and Liz Worth (Kids Help Phone) on how service organizations with sensitive information work with social media. Tips for your crisis service organization:
Be explicit on all your social media channels about what issues can (and cannot) be dealt with online, and transfer users to channels they can use for help (be in your phone number or shelter)
All organizations have different structures for creating content and monitoring social media. Find the one that works best for your users, cause, and resources (e.g. staff). I think The Redwood's approach of each senior manager taking two-week shifts in the role of "social media manager" is pretty neat.
For organizations of all sizes, social media analysis doesn't always make it to the board level. Find a way of making your information digestible – whether it's raw data or a pretty one-pager infographic. There's value in social media, help management understand that.
Be Bold, Be Brave, Be Amazing!
Julie Silvestri of the Yonge Street Mission was exactly what's missing from a lot of nonprofit social media conferences. It's great to hear about how a hospital was able to use QR codes through their city-sanctioned race to raise millions of dollars, but how is an organization with little staff and fewer dollars supposed to replicate that? Julie's words of encouragements to those handed a stagnant social media presence and tasked with turning it around were simple, but bang on. She also emphasized a visual consistency through all your channels – a gal after my own heart! Though my favourite tip was her sharing her editorial calendar:
Just plan ahead, and learn. It's how we all get started. And it's something manageable for the small shop nonprofit.
And like, no big deal, but…

Also, big love to our sponsors Good Works, CharityVillage, and My City Lives, who made Be Good Be Social Toronto 2012 a smashing success!
Were you at BGBS12? What did you think of it? What topics do you think so hot right now for social media and nonprofits?